Email automation is a game-changer for businesses, but with AI, it's becoming even more powerful! AI-powered email automation tools use ML algorithms to analyze data and optimize campaigns, delivering personalized content to each recipient. These tools can also help businesses save time and resources by automating repetitive tasks and providing insights into customer behavior. From lead generation to customer retention, AI-powered email automation can help businesses improve their email marketing strategies and drive revenue growth. This article will explore how AI transforms email automation, and the top AI-powered tools businesses can use to improve their marketing efforts.
What is Email Automation?
Email automation is the method of sending emails to potential consumers through a self-operating and pre-built system – email marketing automation tools. The potential customers are usually those who visit your portal or are on your subscriber list. Gone are the days when people had to spend hours tracking people and sending personalized emails to each. Email marketing automation software works according to the steps the customers take. The potential customers' activities serve as triggers for email activation.
How to Use Email Automation?
Sending automated messages via automated email marketing platforms can be a crucial component of a marketing plan to engage customers. Several benefits prove the importance of email automation tools in email marketing, such as:
Create a Segmented Email List

With email automation tools, companies can create segmented mailing lists as per their customer relationship data or consumer activities. Creating segmented lists for mailing makes it possible to separate your consumers depending on their behavior patterns, characteristics, and level of involvement. Brands may learn what their customers are interested in through automation tools. Effective customer segmentation lets marketers convey relevant marketing messages to current and prospective customers.

Enhancement of Conversion Rate

Most of the customers still choose email as a way of interaction. Email marketing is incredibly effective if utilized properly. It can be an efficient feeding tool. Compared to broadcast emails, automated customized emails have a higher number of clicks. There are varied campaigns a company can choose from. It is nearly impossible for a company to send special offers or festive/birthday wishes to thousands of customers.

However, the software you use to deliver your automated email message can be fed with this information. Such personalized emails can increase the customer conversion rate to the maximum.

Minimized Errors

There are possibilities of potential errors while sending or reusing templates for mass emailing as it is difficult to script unique emails to each of your users. You may use the prediction of email automation. Email automation tools cover it all, from mapping specific user variables to pertinent areas of your templates and sending them immediately with ultimate accuracy.

Upgraded Product Awareness

No company would want to overburden its users to the extent that they lose interest in them and their products. You can use relevant email automation tools to achieve the ideal balance and keep your customers' interests intact. Moreover, a synchronized flow helps improve the frequency and timing of your email campaigns, raising consumer awareness of your goods without going overboard.

Increased Revenue

Customization is successful in boosting sales by up to 26% more. According to the report, personalized emails have transaction rates and revenue per email that are six times higher than those that are not customized.

Moreover, marketing jobs that are tedious and repetitive can be automated, conserving effort and time. An efficient email automation tool can handle various tasks, including maintaining consumer data, tracking clients, re-establishing contact, calculating ROI and gauging interest levels. Also, by including personalization fields in the email, such as name, company name, location, etc., you can further increase efficiency and revenue.
There are three types of email automation tools covered in email campaign automation solutions. The following sections present each type, its benefits and examples:
1. Drip Email Campaign Tools
Drip marketing automatically sends a specified number of emails to your audience at set intervals in response to their activities or status changes. Businesses can use drip marketing to stay in touch with their audience following significant events or activities in a personalized manner.
Examples of Drip Campaigns
Welcome emails: Welcome drips and welcome emails can help make a good impression and inform new audience members of upcoming sales, events, and activities, making them feel like they share your values.
Product recommendations: These can boost conversions and give recipients a feeling of being special with individualized emails, increasing the likelihood of cross- and up-selling.
Automated first purchase: When you thank someone for their purchase, they may feel they are a special group member.
Lead nurture: To connect with prospects and provide pertinent content, employ lead nurturing campaigns. It can take many forms, such as providing customers with more information about the product's benefits, letting them attend an online course, or instructing them how to use the service. Sales and buying value may rise as a result of these initiatives.
Benefits of Drip Campaign Tools
By expressing a company's values, you may establish a connection with your audience and position yourself as a valuable resource for their requirements.
You may increase sales by converting visitors into customers, encouraging repeat business, and reactivating a disengaged audience.
You may easily help clients in their never-ending hunt for goods, services, and information to encourage behavior change.
Effective and targeted campaigns can be customized and depend on a certain action.
2. Trigger-Based Email Automation Tools
Trigger-based tools are automated processes that execute tasks in response to a predetermined trigger event. The trigger is a perfectly timed, measurable action that a prospect or customer frequently performs. A wide range of marketing messages is set to start by using triggers.
Examples of Trigger-Based Emails
Win-back & Follow-ups: Give customers, viewers, or subscribers follow-up and win-back messages to revive them and urge them to do a certain action. Provide a link to the checkout and highlight the key details.
Customer Commitment Messages: Loyal customers are even more important than new ones because they provide useful references, spend more money, and advertise the company.
Purchase Confirmation Notes: To foster trust and transparency, it's crucial to send customers an instant confirmation of their order, payment, and gratitude.
Benefits of Trigger-Based Tools
Uses events to initiate immediate, automated actions and send relevant messages at the right time, increasing receptiveness and positive regard from prospects.
More accuracy, efficiency, customization, and personalization are all made possible.
Gaining customers' trust through personalizing and customizing the customer journey.
Sales are increased, better conversions, consumers are re-engaged, and trust, customer experience, satisfaction, and loyalty are improved.
3. Automated Newsletter Tools
An automated newsletter tool is the most popular email type in email marketing. They frequently provide news and updates to keep viewers interested. They are made to gently nudge consumers into conversion at the same time.
Examples of Automated Newsletters
Daily newsletters: They offer you a handy opportunity to connect with and interact with your audience, raising the probability that they will visit your website again.
Designed to focus on specific subject sectors: RSS automation or CMS integration can create newsletters for different content categories and verticals, increasing the likelihood of subscribers.
Weekly round-up: Publishers should focus on creating weekly content that is more interesting for their audience and encourage them to opt down rather than out.
Benefits of Automated Newsletter Tools
Enhance traffic by including links to unique content, how-to tutorials, and practical advice.
Develop brand authority by providing informative and worthwhile content to create positive impressions of your emails.
By giving those who haven't made a purchasing decision important information and case studies, email newsletters can indirectly improve sales.
To provide subscribers value, develop unique content for each channel.
The following are the features to look for while choosing the best AI email automation tools:
A. Segmentation Capabilities
By using specific criteria, email subscribers are divided into smaller segments through the segmentation capabilities of email marketing automation tools. Segmentation is commonly used as a personalization strategy to offer more appropriate email marketing to subscribers based on their attractions, past purchases, geography, and miscellaneous other factors.
B. Personalization Options
Personalizing your emails can enhance revenue and ROI by increasing open and click-through rates. Using your data and knowledge about a certain subscriber, you can target an email marketing campaign to them. Including a subscriber's name, gender, geography, or other features, in the subject line is an example.
C. A/B Testing Features
Split email testing, or A/B testing, includes sending two copies of your email to two separate test populations on your email list. Also, it's the quickest technique to ascertain your audience's preferences and modify your email messages accordingly. The email that earns the most opens and hits is the one that will be forwarded to your other subscribers.
D. Reporting and Analytics
Reporting is used to simplify complex information to make it easier to understand, whereas analytics is the method for making choices based on the information given. Marketing and sales teams can continuously improve their email messaging by observing which content engages potential customers and which is ignored or discarded.
E. Integrations with Other Marketing Tools
Marketing tools and software linking together for seamless email marketing activities is email integration. They enable marketers to connect systems like their CRM or point-of-sale system with their email service provider to create messages that are even more tailored, appropriate, and effective.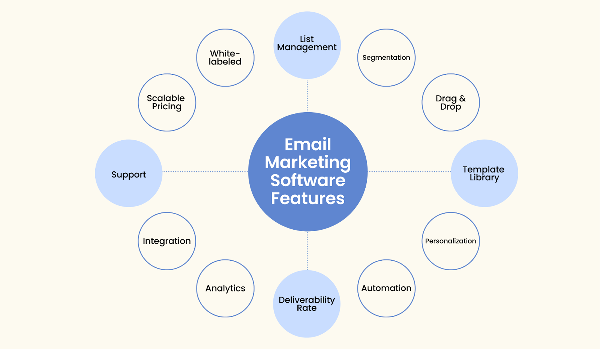 The market presents a range of email marketing software, each with distinct strengths. The following products include the best email automation tools for companies in the market:
1. Customer.io
A platform for curating and designing marketing and product emails with an interactive workflow builder. Workflows merge in-app messaging with emails, SMS, push, and webhooks. You can rapidly set up a test to find out which channel gives your audience the most conversion.
Features of Customer.io
In-app messages
Ad audience sync
Data warehouse sync
Identity resolution
Scalability
Pricing of Customer.io
Essentials: $100 per month ($0.009/additional profile
Premium: Available on Contact
Enterprise: Available on Contact
Pros and Cons of Customer.io
| | |
| --- | --- |
| Pros | Cons |
| Very comprehensive and user-friendly | Quite expensive for many contacts |
| Easy segment users in varied ways | Premium expensive too |
| Easy to create newsletters | Requires developer's help depending on the useNo chat feature |
| Creates email flows without code disclosure | – |
2. RafflePress
It is one of the least expensive and most effective WordPress giveaway plugins that make WordPress contests, prizes, and awards simple to create.
Features of RafflePress
Responsive mobile friendly
Drag and drop giveaway builder
Social media integrations
One-click entry and fraud protection
Viral giveaway templates
Distraction-free giveaway landing page
Tracking and retargeting
Marketing and CRM integrations
Pricing of RafflePress
Ultimate: $499.50 /one-time
Growth: $199.50 /year
Pro: $99.50 /year
Plus: $39.50 /year
Pros and Cons of RafflePress
| | |
| --- | --- |
| Pros | Cons |
| Fraud protection is superb | Limited integration options |
| Efficient in creating viral giveaways | Slow processing |
| Easy to set up and use | – |
| Mobile friendly | – |
3. Sendinblue
A comprehensive marketing automation tool that merges SMS messaging and email marketing services. It provides a drag-and-drop builder to construct automated workflows, segment users and send engaging emails.
Features of Sendinblue
Marketing platform available
Sales CRM
Enhanced conversations
SMS Marketing
Transactional emails
Email segmentation
Landing page
Live chat options
Sign up forms
Marketing automation
Pricing of Sendinblue
Free: ₹0/month
Starter: Starts from ₹1575/month
Business: ₹4075/month
Enterprise: Custom price
Pros and Cons of Sendinblue
| | |
| --- | --- |
| Pros | Cons |
| Easy to use | Templates less robust |
| Variable designs | No guiding videos |
| Easy scheduling of delivery dates | No undo options |
4. iContact
An automated email campaign lets a subscriber connect with a landing page, click a link, or fulfill any other criteria you specify. There is no need for HTML expertise, and using the Drag & Drop Editor is simple through iContact.
Features of iContact
Bulk email campaigns
Scheduled emails
Re-engagement emails
Triggered emails
Email automation
Personalization
Campaign reports
Easy segmentation
Custom fields
Email autoresponders
Landing page analytics
A/B Testing
Pricing of iContact
Pros and Cons of iContact
| | |
| --- | --- |
| Pros | Cons |
| Easy email building | List uploading is slow |
| Easy email templates editing | Scheduling features need improvement |
| Good customer service | Less storage space for images |
5. Constant Contact
An email marketing service which is user-friendly for beginners and provides a quick and simple setup process. Constant Contact receives great marks for providing excellent customer service, webinars and thorough online training to assist your success.
Features of Constant Contact
Email marketing
Social media marketing
Event marketing
SMS marketing
Mobile apps
Email templates
List-building tools
A/B testing
Integrations
Reporting
Syncing with CRM
E-commerce
Marketing automation
Landing pages
Pricing of Constant Contact
Email & Digital Marketing: Starts at $9.99/month
Lead Gen & CRM: Starts at $199/month
Pros and Cons of Constant Contact
| | |
| --- | --- |
| Pros | Cons |
| Good alternative for database administration | Monitoring parameters are hard at times |
| Sign up and entering payment information is easy | Calls take longer to connect |
| Excellent Interface | Can handle a large number of contacts |
6. Drip
This application makes the drip email procedure more efficient. It's a surprisingly straightforward tool with a lot of power. The program has drag-and-drop elements for easy construction, pre-made themes, and email-gathering technology.
Features of Drip
Market across multiple channels
Behavior-based personalization and segmentation
One-click integrations
In-app insights and guidance
Smart A/B testing
Pre-built playbooks
Pricing of Drip
Pros and Cons of Drip
| | |
| --- | --- |
| Pros | Cons |
| Great email sending and list management | CRM functions are less effective than those of other email automation tools |
| Flexible automation | A BigCommerce integration is required |
| Easy-to-use workflows | – |
7. ConvertKit
ConvertKit is the platform for creator marketing that includes your album, book, collection, podcast, and newsletter. As a go-to marketing center for creators, ConvertKit makes it simple to expand and manage your community.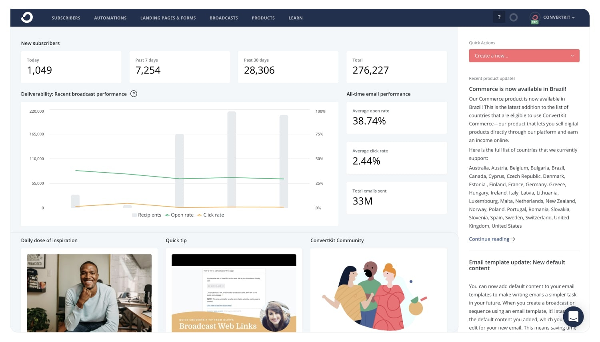 Features of ConverKit
Creator Network
Landing pages
Email designer
Email marketing
Sponsor Network
Deliverability
Forms
Integrations
Visual automation
Commerce
Pricing of ConverKit
Free: $0/month
Creator: $9/month
Creator Pro: $25/month
Pros and Cons of ConverKit
| | |
| --- | --- |
| Pros | Cons |
| Subscriber's box has an email landing | High in price |
| Free mailing address for customers | Difficult to create a landing page |
| Good CRM | Not a recommendation for a non-tech person |
8. Mailchimp
You may use Mailchimp to send drip emails as a follow-up based on a variety of factors, including website activity, consumer inactivity, abandoned shopping carts, and more. If you require an all-encompassing platform for inbound campaigns, Mailchimp can be the right choice.
Features of Mailchimp
Automated conversions
AI and analytics optimization
Targeted segmentation
Synced integration
Pricing of Mailchimp
Free: ₹0/month
Essentials: Free for 1 month, starts at ₹770/month
Standard: Free for 1 month, starts at ₹1,150/month
Premium: Starts at ₹23,000/month
Pros and Cons of Mailchimp
| | |
| --- | --- |
| Pros | Cons |
| Easy to useFast mail delivery rate | Inefficient automation features |
| Spam folder has less email delivery | Colors and font sizes of email signatures can not be changedUnattractive pricing |
9. ActiveCampaign
ActiveCampaign is a robust email automation software that allows you to fine-tune email marketing campaigns with pinpoint accuracy. A marketing strategy can be created in a variety of inventive ways thanks to the ability to filter contacts into categories and tags.
Features of ActiveCampaign
Email & Online Marketing
A/B testing
Mobile optimization
WYSIWYG email editor
Dynamic content
Landing pages
Email deliverability reporting
List management
Triggered drip sequences
Lead Management
Lead nurturing
Data quality management
Automated sales alerts and tasks
Campaign Management
Social Media Marketing
Reporting & Analytics
Platform & Infrastructure
Pricing of ActiveCampaign
Lite: starts at $29/month
Plus: starts at $49/month
Professional: starts at $149/month
Enterprise: Available on contact
Pros and Cons of ActiveCampaign
| | |
| --- | --- |
| Pros | Cons |
| Easy Email Automation | Lacking customer care |
| Efficient contact trackingGood email and sms campaigns | Not-so-good template functionalityRequires tech support |
10. Mailjet
Mailjet offers a single platform where your team can write, modify, and send emails. Real-time collaboration between developers and marketers is possible on this platform. You can separate transactional emails from marketing campaigns by setting up as many sub-accounts as necessary to match the organizational structure of your business.
Features of Mailjet
Personalization
Segmentation
Automation
A/B Testing
Contact Management
Email Verifications
Pricing of Mailjet
Free: $0/month
Essential: starts at $15/month
Premium: starts at $25/month
Custom: Upon request
Pros and Cons of Mailjet
| | |
| --- | --- |
| Pros | Cons |
| Good real-time collaboration | Mail editor hangs down at times |
| Manageable email marketing | Hard to use transactional SMS through API |
| Efficient email personalization | – |
AI Email automation is a powerful business tool to streamline email marketing efforts and improve efficiency. With the ability to automatically segment audiences, personalize content, and trigger targeted campaigns based on user behavior, email automation AI can help businesses increase engagement and drive conversions. Besides, AI-powered analytics can provide valuable insights into campaign performance and help businesses optimize their strategies over time.
Make sure to launch your email marketing campaign with the ideal marketing strategy and the ideal ESP for your company! Every tool mentioned above has its set of unique features to serve the requirements of your company. So, take your time and choose wisely to get effective conversions.
Frequently Asked Questions
Q1. What are the 4 types of email marketing?
A. The four types of email marketing are promotional emails, newsletters, transactional emails, and behavioral emails. Promotional emails aim to sell products or services, newsletters provide information and updates, transactional emails are triggered by user actions, and behavioral emails are based on user behavior and interests.
Q2. What is email marketing CRM?
A. Email marketing CRM is a strategy that combines email marketing with customer relationship management tools to help businesses manage their interactions with customers through personalized and targeted email campaigns. It allows businesses to track customer behavior, preferences, and purchase history to tailor their email marketing efforts and increase engagement and conversions.
Q3. What are the 4 types of email marketing?
A. The four types of email marketing are promotional emails, newsletters, transactional emails, and automated emails. Promotional emails are used to promote a product or service, while newsletters provide subscribers with regular updates and valuable content. Transactional emails are triggered by a user's action, such as a purchase confirmation, and automated emails are pre-scheduled emails sent based on specific criteria or triggers.
By Analytics Vidhya, March 28, 2023.